For those into grooming beauty therapy, visit our UNISEX 'Feel Good Studio' and make it a day to remember by indulging in our remedial intuitive massages incorporating HEAD massage and Waxing.

Eyes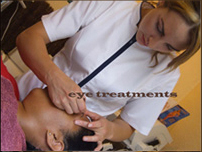 Do you wish your eyes had more definition? Then why not consider one of our shaping, inting or extension treatments - the ideal way to enhance the appearance of your eyes. Please note though, that a patch test is required 24-48 hours prior to tinting. Now you can acheive total skin rejuvenation with our new skin treatment 'Crystal Clear' Oxygen.Therapy and microdermabrasion. A deep rejuvenating treatment formulated in Paris by leading chemists. Serum is delivered into the deeper layers of the epidermis to improve

Waxing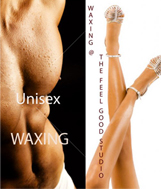 We use the Professional Hygienic and Disposable Waxing System, because we believe it is the only waxing system in the world to eliminate the chance of cross contamination. We offer a professional, hygienic, quick, easy and less painful hair removal service for all body waxing treatments.

Skin Firmness & Elasticity.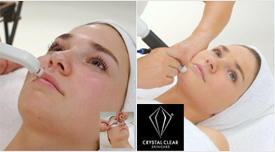 This treatment is fast becoming the number 1 facial treatment among celebrities. Devotees include Madonna, Cameron Diaz, Victoria Beckham, Cindy Crawford & Martine McCutcheon,Beyonce. Also rapidly becoming a firm favourite with a growing number of male 'celebs'. With magazines such as, Heat, New, Hello, Closer, Now and Womans Own reporting. These fabulous treatments not only reverse the signs of ageing, but can help improve scars, stretch marks, sun damage, oily skin and open pores.Crystal clear smoothes and revives dull skin, giving it a radiant glow. * New to our crystal clear services is our comcit 4 in 1 treatment. This revoloutionary rejuvenation treatment includes microchanalling, mda and oxygen therapy.

Ultra sun Shower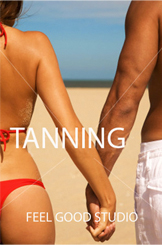 Ever wanted to achieve that sun kissed look but did not want to go in the sun? This streakless tan is also recommended for camoflaging natures post birth marks. Also successfully used to enhance definition in the male body-building world. introduced in Our new ultra upright sunbed showers are now also a firm favourite with our clients. They are a great source of Vitamin D( Fabulous for bones and absorbtion of vitamin C.

Nails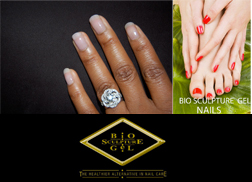 Why not go further than a manicure and pamper yourself with a Parafin Wax pedicure? The perfect way to relax, incorporating foot bath, filling,trimming, shaping, removal of rough skin and relaxing foot massage, and then finishing with a perfect polish. Or, new to our Beauty Grooming menu are Gel nails & Bio Gel Sculpture. Discover the difference of an advanced nail treatment that's a pleasure to use and wear. Bio Sculpture Gel makes nails beautiful, flexible and strong - naturally. Easy to apply, instantly dry - soaks off clean in 15 minutes. The colour or clear gel-applied nail coating and after care products more people prefer worldwide *We have also added Shellac power polish too. You could have this treat ment while having your hair done.
Related Products