At the award winning Hectors Global Hair with zeal, Hector and his team have a firm conviction that they put the zeal back into barbering! Hectors is all about the ultimate professional experience. Up to date and progressive. Providing that feel good factor. * WE HAVE INTRODUCED MENS HAIR REPLACEMENT UNITS SYSTEMS to our mens hair styling menu


The team is friendly, stylish, unique and innovative, and can provide you with a cut with an edge or just street 'cred', with colour, texturising or a bit of everything


A full range of premium men's grooming products are available to buy, be it to increase your pulling power,awareness or just plain maintenance. Hector's has your well being at heart. Tips on facial and body hair grooming or removal are available, as is expert advice on ingrown hair prevention, bump control and turning tired, chapped lips into kissable ones for the ladies!
A wide range of treatments are on offer including airbrush tanning,which can also aid muscle definition, the revolutionary crystal clear; micro-dermabrasion to improve the effects of acne scaring. This fabulous treatment smoothes and revives dull skin giving it a radiant glow and lift. Manicures and pedicures - a must for today's metrosexual man! Micro circulation head massage treatments are a fave for deterring hair loss and jump starting hair growth again.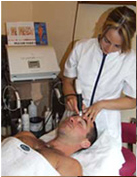 Hector's believe in having fun, being daring and providing a professional service. Hair appointments are not always necessary but advisable. Book today and don't miss out on the hector's global hair with zeal experience. New to our grooming services are our ultra upright sunbeds now a firm favourite with our clients.
Related Products