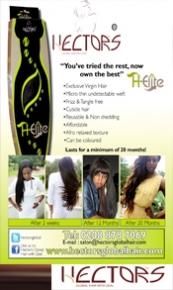 Pride magazine December
THE SECRET IS OUT! H-ELITE HAIR from Hector's Global Hair with Zeal.
Have you ever wanted to know the secret behind your favourite celebrities' beautiful and lustrous hair? Wonder no more! H-Elite's gorgeous cuticle virgin weft hair.
H-Elite hair feels silky soft, natural looking, healthy and gives you that glamourous frizz free celebrity volume .You have always wanted. H-Elite hair is produced using hand tied micro thin undetectable weft . As light as a feather and will not create hair tension . Your H-Elite hair will move, bounce and swish with the such lively energy. Style and play with it just like you would with your own hair.
H-Elite hair is perfectly reusable, tangle free, can last you from a minimum of 20 months to beyond . We are able to provide you with the highest level of superb quality because our hair is not only individually hand picked cuticle aligned virgin hair. But extra fortified. In fact, H-Elite cuticle hair blends in so well . That even the experts will find it difficult to tell where your own hair ends and where H-Elite hair begins. The new era of perfect blend weaves/extensions is now here and Hector's Global Hair with Zeal are proud to be the pioneers!