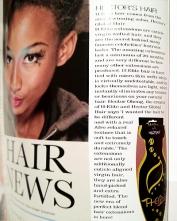 Black Hair magazine Jan/feb 2013
H- ELITE HAIR from award winning salon Hector's Global Hair with Zeal.
Have you ever wanted to know the secret behind your favourite celebrities' lustrous hair extensions? Well wonder no more! H-Elite's amazing cuticle virgin wefted hair is the fabulous new creation from Award winning Salon Hector's Global Hair with Zeal.
"Having worked with several brands I wanted H-Elite cuticle virgin hair to be different and have a real Afro relaxed texture . All the hair I used was either too silky, or heavy, shedded , tangled or all the above! So With H-Elite I created that desired Afro relaxed feel that is soft to touch and extremely durable." Hector (Obeng), Creator of H-Elite and Salon owner of Hector Global Hair with Zeal.
So what makes H-Elite's different? Firstly the hair is produced using a hand tied micro thin weft, which is virtually undetectable. The tresses itself are light instantly eliminating any form of tension or heaviness on your natural hair. In an economic where every penny counts, H-Elite is perfectly reusable, tangle free, and will last you a minimum of 20 months!
Hector Global Hair with Zeal have provided the highest level of quality hair extensions because their tresses is not only additionally cuticle aligned virgin hair, it is individually hand picked and extra fortified. In fact, H-Elite cuticle hair blends in so well that even experts struggle to tell where your own hair ends and where H-Elite begins. The new era of perfect blend weaves/extensions is now here and Hector's Global Hair with Zeal are proud to be the pioneers!
At last find hair extensions that will move, bounce and swish like it's your own, so well in fact no one has to know any differently- Let's call it our little secret!
"You've tried the rest! Now own the best"!